Built-in 1949, The Wigwam Motel is located on the historic Route 66.
Let the unique historic architecture transport you.
---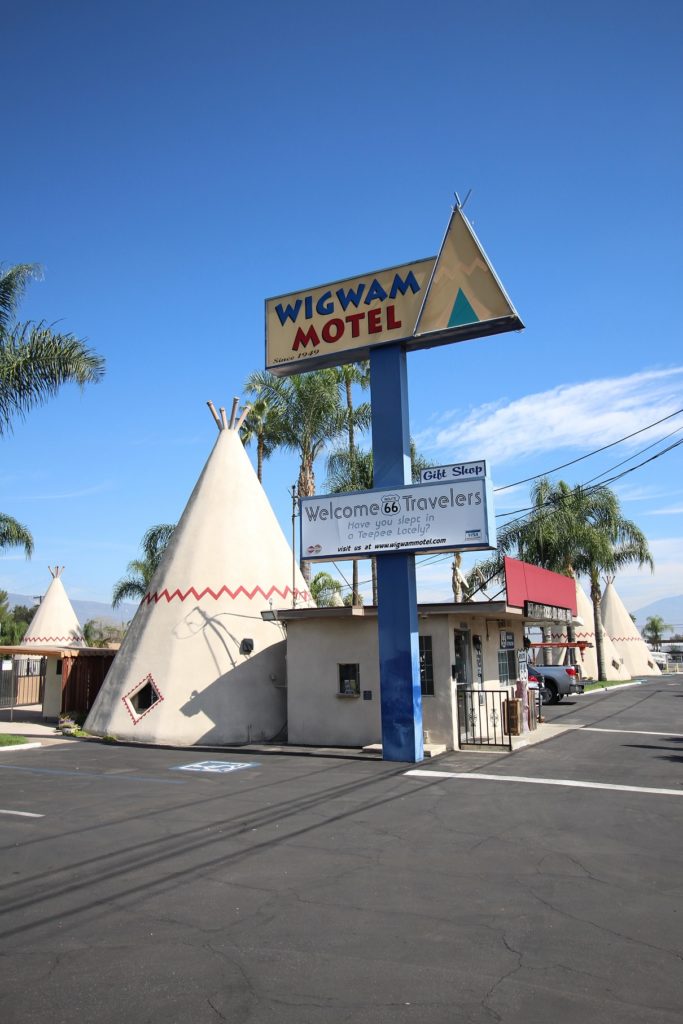 The Wigwam Motel is one of the historic pride and joys of the momentous main street of America, Route 66.
We want to take you back in time, to open spaces with iconic teepees, stunning sceneries, pristine lakes, and a world of San Bernardino activities and attractions to discover nearby.
We are one of the legendary hotels on Route 66, rated for the best value when it comes to San Bernardino area lodging. Any road trip through California is unfinished without a stop in this symbolic site located just inside the city limits of San Bernardino.
Looking to stay in the best San Bernardino CA hotels? For a true time-traveling mind-bending historical experience full of adventure, quaint beauty and memorable sights, the Wigwam Motel is the place to be.
The Wigwam Motel's identifying feature are our individual wigwam-shaped rooms complete with all the modern facilities and technology. Relax in your own personal wigwam and take in the splendor of our historically significant site.
And – you won't have to look far for entertainment and leisure.
We can guide you to the nearest hotspots including restaurants, tourist attractions, lakes, ski resorts, shows and events. We are among the few motels with swimming pools on Route 66.
We have a total of 19 newly refurbished wigwams available, along with a 24 hour central office and a hotel lobby. Get memorable souvenirs and presents from our gift shop which will always remind you of Route 66 and your unforgettable California trip.
Without a stay at the Wigwam Motel, your Route 66 road trip will be incomplete.
So, get ready to be transported to another time by the beauty and distinctive architecture of our teepees and natural scenery.
WigWam History
The Wigwam Motel, built by Frank Redford to honor history, is now a historical landmark in itself.
It all started in 1926 with Route 66, the first highway that led Americans to the west.
The history of this monumental road is overflowing with family stories, unforgettable journeys, and life changing experiences. A famed sensation from the very beginning, the celebrated Route 66 is known by all as the Mother Road of the United States.
Starting in Chicago and ending in Santa Monica, the massive Route 66 highwayis lined with a series of motels in Californiawhich popped up over the years for travelers to rest and roam before they continue their journey.
Yet, the only one that travelers remember is the equally historic Wigwam Motel.
It was in 1933 that Frank Redford first started developing the Wigwam "Villages" by designing teepee shaped motel units around a museum-cum-shop he had built to showcase his Native American artifacts.
Frank got the concept for the enormous teepee shaped rooms from an ice cream stand he had seen in Long Beach, California. Hewent on to build seven motels using his wigwam design, and the hotel in San BernardinoCA was his final, established in 1949.
Nineteen cone-shaped wigwams stand 32 feet high on vast green grounds. But instead of being made of animal skins, the wigwams have a poured concrete foundation with a wood framing stucco exterior designed by Frank Redford himself.
Driving down Route 66, this San Bernardino motel immediately grabs your attention with its one of a kind roadside architecture.
It is one of the 3 remaining Wigwam Villages in the country.In 2003, it was bought by the Patel family, who restored the famous CA motel to its previous historic glory and beauty. Since 2012, the Wigwam Motel has been listed on the National Register of Historic Places.
Want to know what it's like to sleep in a Wigwam? Want to add your own story to the grand history of Route 66? For a classic Route 66 journey, don't forget to stop on by the unforgettable Wigwam Motel and experience the thrill and wonder of its history firsthand!